Azoic
---
Einsendung in der Kategorie Skulptur





Kategorie:

Skulptur


Genre/Technik:

Sculpture / object


Technik:

Concrete, acrylic, ceramic


Größe:

26 x 20 x 18 cm

Künstler:

Lita Poliakova


Webseite:

www.litapoliakova.com



Lita (Life Is Torturing Awesome) Poliakova is a professionally trained visual artist of Russian origin. She is focused on portraying human emotions and experiences. Based in Dresden since 2018 she is creating expressive graphic works and biomorphic paintings. Physicality and sensuality are the main topics in her practice. She sees traumas and internal transformations as natural processes important for healing and growth. Imprinted on the face distortions were reflected in her solo shows (2019) in Berlin (Werkstadt gallery) and New York (Chashama gallery), and International Paper Triennial in Musée de Charmey, Switzerland (2020). She expands her practice using an environmental approach and creates mixed media sculptures and objects. Lita Poliakova has an academic background in art; hence her research intersects with art therapy. The art therapy deals with trauma through non-linguistic communication since the traumatic experience is claimed to be identified as nonverbal. Till the present times rituals constitute cultural defense mechanisms containing practical experience of ancestors, which Lita finds crucial to be implemented. In her alchemy studio she is creating environmental art portraying decay, connecting physical and emotional. Self-transformation starts from symbolizing, depicting, shaping emotional wounds and reoccurring distressing sensations through ceremony and behavioral techniques. An abstract portrait of a human being aka ritualistic sculpture serves as a totem, which heals and unites communities. A sudden outbreak appears to be like a wakeup call, call for awareness. Pandemic virus showed how fragile we are. Out of nothing millions of people got destroyed from the inside, eroded. Hundreds of thousands died. Indented for the public display the work has been created in May 2020, when the local government put an ease on the quarantine measures. The base of the work is a found object, which the artist stumbled upon on the empty Elbe bank – as if it was the untouchable immune being – Azoic. The disfigured porous head symbolizes vulnerability of the human, while protruding facial details emphasize the strength of survivor. Acceptance of the human susceptibility is the core for the strength, in opposite to arrogant power.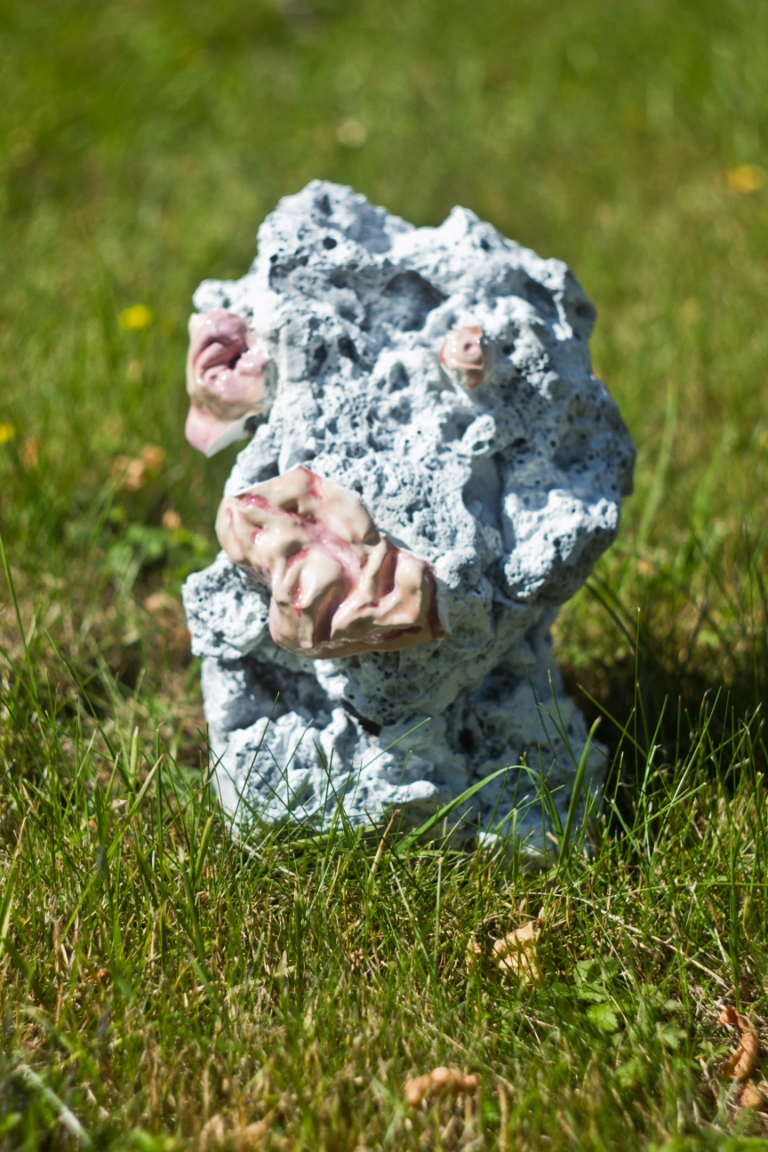 No video selected.
Anhören:
No video selected.